Glass Block Lights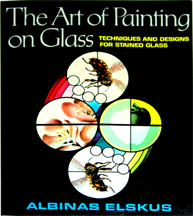 The Art of Painting on Glass

by Albinas Elskus
Publisher: MacMillan
152 pages



The Glass Painting 'Bible'.


Table of Contents


Chapter 1: What are Vitreous Paints?
Chapter 2: Mixing Glass Stainer's Colors.
Chapter 3: Choosing and Using Basic Equipment.
Chapter 4: Some Thoughts on Painting Techniques.
Chapter 5: Tracing: The Linear Dimension.
Chapter 6: Matting: The Tonal Dimension.
Chapter 7: Staining, Emameling, and Etching.
Chapter 8: Firing Painted Glass.
Chapter 9: Using Traditional Techniques Creatively.
Chapter 10: Basic Design Considerations.
---
Copyright © 2006-2016 Steve J. Noll All rights reserved.