Round Patio with Embedded Handmade Tile
Steve J. Noll
This site describes a project to build a patio made from cast concrete sections with embedded handmade tiles. It was conceived to 'mirror' the Koi pond/Fountain located on the opposite side of the backyard.
Site location and preparation.
Testing concrete mixes and testing blue dye UV exposure resistance with 40W UV lamps. Concrete mix is a 7-sack mix of white portland with PVA fibers and a high concentration of fortifier.
Cutting patterns in ceramic bisque tile with a Dremel with a diamond bit. Glazed tiles ready to fire in the kiln.
Examples of finished ceramic tiles (okay I'm no artist.) The project took over 70 tiles.
Tiles surfaced with shelf paper and glued face down in the mold. Mold detail shows routed groves and Teflon rods allow cast sections to interlock.
All sections were cured for a week underwater for maximum strength. Water pH was adjusted daily. White shelf paper protects the tile face and is peeled off during the underwater curing step. Cured sections are dyed with special concrete dye. Traditional in-concrete blue dyes turn black in the sun over time.
Last of three rings of castings is done. Last sections dyed and ready for final assembly.
Assembly on a bed of gravel. Border footing dug and gopher mesh in place.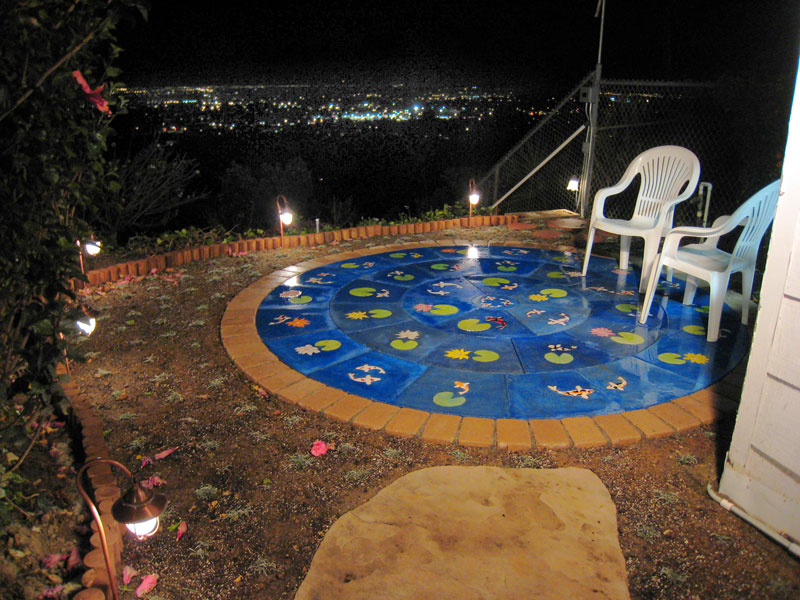 Other links that may be of interest...

The Glass Block Pond:
The Glass Block Pond... http://www.kissingfrogs.tv


NEW - A White Light Emitting Diode (LED) lit Patio Cover:
White Light Emitting Diode (LED) lit Patio Cover... http://www.kissingfrogs.tv/patiocover.html


A gilded metal wind sculpture of fish:
Flying Fish Swim with the Breeze... http://www.kissingfrogs.tv/windsculpture.html


Water Lily Pots with Integral Feeding Tubes:
Easy to Feed Water Lily Pots... http://www.kissingfrogs.tv/lilypots.html


Details of a unique bamboo and gilded copper garden trellis:
Bamboo and Gilded Copper Trellis... http://www.kissingfrogs.tv/trellis.html


An Illuminated Glass, Gold, and Copper Birdbath:
Glass, Gold, and Copper Birdbath... http://www.kissingfrogs.tv/birdbath.html


A unique 97-foot long fused glass-on-brick project:
97' long fused glass-on-brick project... http://www.peltier-info.com/wall.html


Directory of over 125 pond supply dealers:
Pond Dealer Directory... http://www.kissingfrogs.tv/ponddirectory.html


A permanent Heron-deterrent Scarecrow installation:
Heron-deterrent Scarecrow Installation... http://www.kissingfrogs.tv/scarecrow.html


Homemade Glassworking Lathe:
Homemade Glassworking Lathe... http://pw2.netcom.com/~sjnoll/glasslathe.html


Largest Thermoelectricity information site on the 'net:
Thermoelectricity information site... http://www.peltier-info.com


Largest used high-tech equipment dealer directory on the 'net:
Largest used hi-tech equipment dealer directory... http://www.big-list.com

LED Light Emitting Diode spectral scans and measurements:
LED Spectral Scans... http://www.big-list.com/leds.html

(C) 2014 Steve J. Noll