A White LED Rope Light Lit Patio Cover
This site describes the design and construction of a patio cover lit entirely with white Light Emitting Diode (LED) rope light.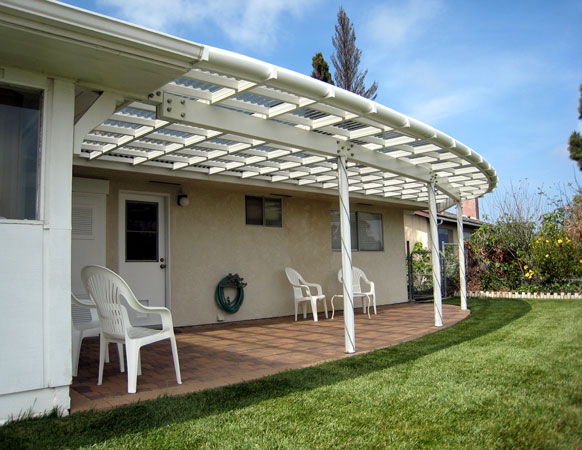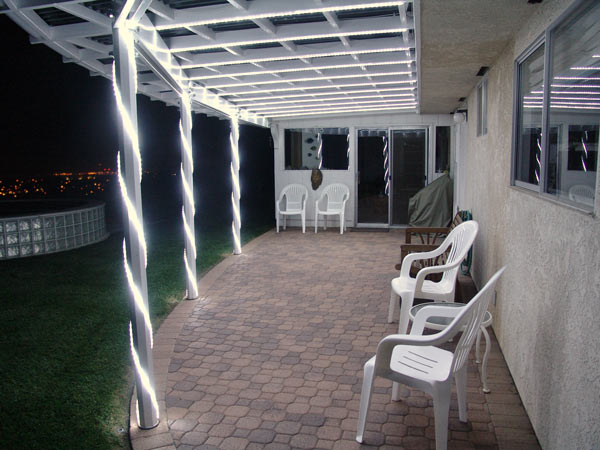 Design Goals
Patio Floor – Interlocking Pavers. Anything's better than cold grey concrete which will eventually crack.
Patio Shape – curved, essentially one-quarter of an ellipse. Nature abhors straight lines and everything about most houses is square or rectangular – rooms, doors, windows, etc. Need to be more imaginative.
Patio Cover – transparent tinted polycarbonate. Want to be able to walk out there while it's raining, and want to be able look up and see the Moon and stars through the cover.
Cover Support Posts – Hexagonal. Everyone uses 4 x 4's. Let's do something more interesting!
Low Maintenance/Long Life – All wood is first epoxy sealed, then oil-base primed, then two coats high quality paint. Stainless steel hardware painted with epoxy paint. All nails, screws, bolts, washers, joist hangers, hurricane clips, etc., are stainless steel.
Lighting – too often forgotten, is a major feature of this patio. It is lit entirely by energy efficient white Light Emitting Diode (LED) rope light with provisions for adding decorative Chinese paper lanterns for special occasions.