Home Made Bird Feeder LED Yard / Walkway Lights
Many landscape lights provide only enough light to light themselves up - they don't provide enough useful light for the surrounding area. These home made fixtures fashioned from inexpensive bird feeders solve that problem with a stylish flair and Light Emitting Diode efficiency.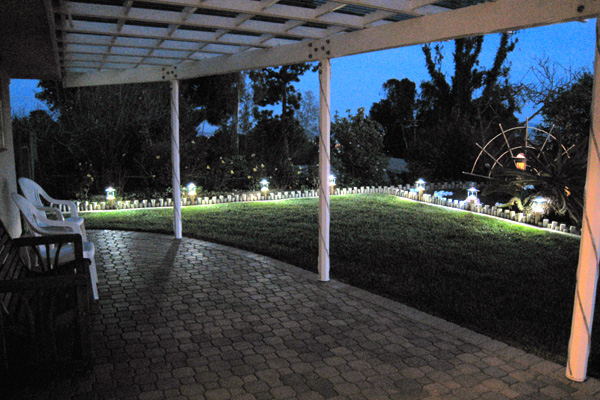 We start with a model 8203-3 Bamboo Garden Bird Feeder from the Avant Garden line of OPUS Inc. Just $15 each.
The cover is removed with a twist. The main LEDs will mount on the ring atop the main bird feeder body. The clear plastic tube used to confine the bird seed is discarded.
The metal leaves block too much light so are snipped off. Loops of copper sheet will act as heatsinks for the main LEDs.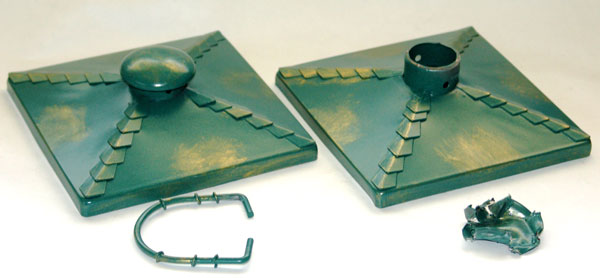 The steel cap on the bird feeder lid is ripped off and the hanging loop is discarded.
A mini-roof is made from copper sheet. Little brass tiles are fashioned to match those on the main roof. Eight holes are punched through the now-open tube at the top of the roof. These will be filled with T 1-3/4 white eBay LEDs (measured at 6.1 lm, 31.5 Cd, 10.5-dg FWHM beamwidth.) An additional LED points straight up to illuminate a piece of stained glass that closes off a hole in the top of mini-roof. The purpose of all this is to illuminate the top of the main roof.
The T 1-3/4 LEDs are actually filed to reshape the beam pattern to more efficiently light the top of the roof. Hammertone paints were used to repaint the roof.
Three high power white LEDs and one high power yellow LED provide the main illumination of the ground around the light fixture. The white LEDs are Optek OVSPWBCR4, 7250K color temperature, 1W, 18cd, 48lm, 120dg beamwidth. The yellow LED softens the fluorescent look of the white LEDS. The yellow LED is a Optek OVSPYBCR4, 35lm, 11.25cd, 400mA, 587nm, 1.2W, 120dg beamwidth. All of these LEDs must be heatsinked. They are extremely high power and generate heat. The main LEDs are in series and powered from a LM317 in current regulator mode at about 350 mA.
Silicone sealant holds "bamboo" made from reed fencing material. Reed is first preserved with an epoxy sealant.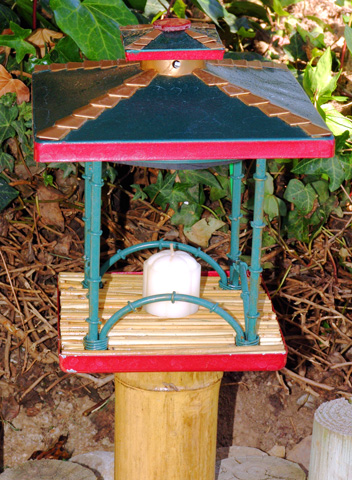 The finished product is mounted on a 9-inch length of large diameter bamboo.






Other projects that may be of interest...

Round Patio with Custom Tiles:
Round Patio with Custom Tiles... http://www.kissingfrogs.tv/newpatio.html


The Glass Block Pond:
The Glass Block Pond... http://www.kissingfrogs.tv


NEW - A White Light Emitting Diode (LED) lit Patio Cover:
White Light Emitting Diode (LED) lit Patio Cover... http://www.kissingfrogs.tv/patiocover.html


A gilded metal wind sculpture of fish:
Fish Swimming with the Breeze... http://www.kissingfrogs.tv/windsculpture.html


An Illuminated Glass, Gold, and Copper Birdbath:
Glass, Gold, and Copper Birdbath... http://www.kissingfrogs.tv/birdbath.html


Painted glass block landscape light project:
Painted Glass Block Landscape Lights... http://www.kissingfrogs.tv/blocklights.html


Homemade Glassworking Lathe:
Homemade Glassworking Lathe... http://pw2.netcom.com/~sjnoll/glasslathe.html


Water Lily Pots with Integral Feeding Tubes:
Easy to Feed Water Lily Pots... http://www.kissingfrogs.tv/lilypots.html


A unique 97-foot long fused glass-on-brick project:
97' long fused glass-on-brick project... http://www.peltier-info.com/wall.html


Directory of over 120 pond supply dealers:
Pond Dealer Directory... http://www.kissingfrogs.tv/ponddirectory.html


Details of a unique bamboo and gilded copper garden trellis:
Bamboo and Gilded Copper Trellis... http://www.kissingfrogs.tv/trellis.html


A permanent Heron-deterrent Scarecrow installation:
Heron-deterrent Scarecrow Installation... http://www.kissingfrogs.tv/scarecrow.html


Largest Thermoelectricity information site on the 'net:
Thermoelectricity information site... http://www.peltier-info.com


Largest used high-tech equipment dealer directory on the 'net:
Largest used hi-tech equipment dealer directory... http://www.big-list.com

LED Light Emitting Diode spectral scans and measurements:
LED Spectral Scans... http://www.big-list.com/leds.html





(C) 2014 Steve J. Noll